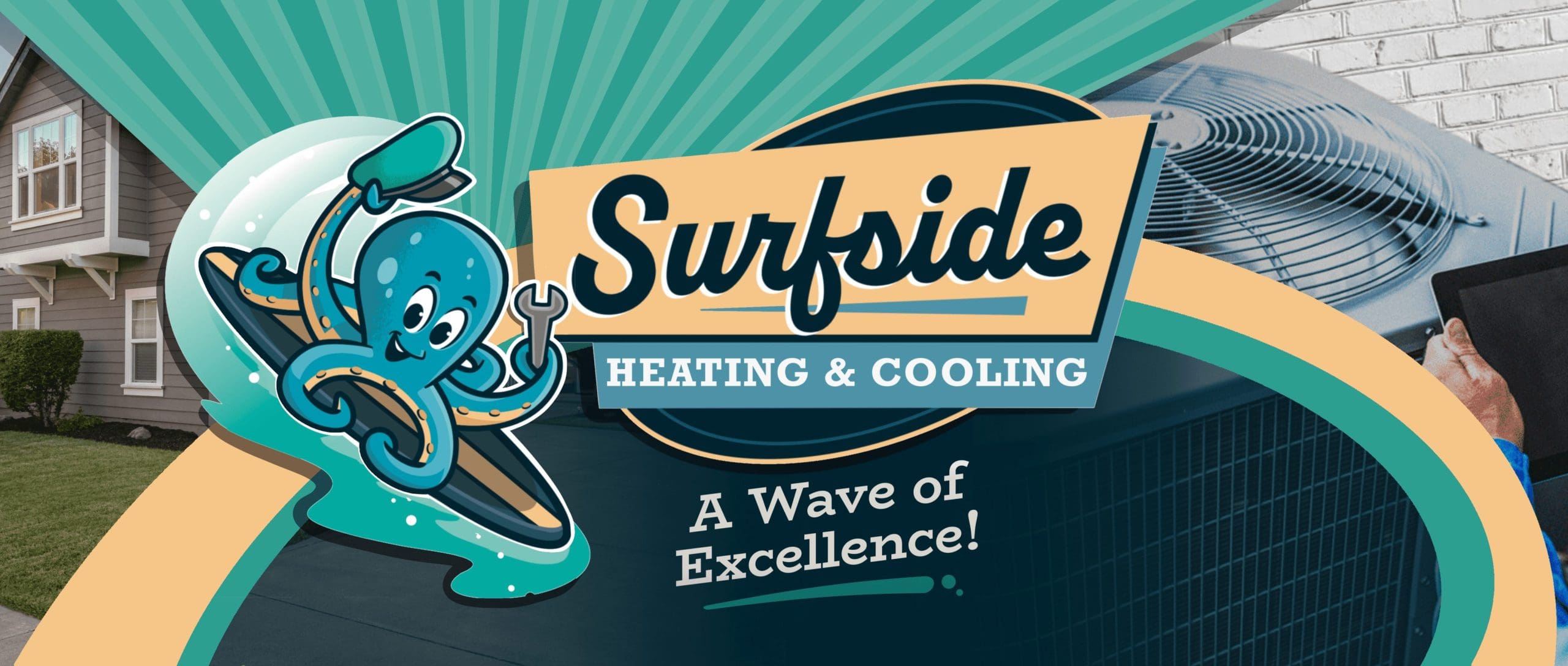 As a Local HVAC Company, We Service Mobile & Baldwin Counties
Locally owned and operated, we are proud residents of the Gulf Coast.  We live and work in both Mobile and Baldwin Counties just the same.  We've grown up here loving our area, which is reflected heavily in our branding.  Our octopus and its eight arms is represented in our eight different divisions, and the name and logo of our company is beach-oriented because of our great appreciation of Alabama's beautiful beaches.  It just made sense for a local HVAC company in Mobile, AL to pay tribute to our amazing beaches and waterways.
Not All HVAC Companies Are the Same
Heating and cooling companies may share the same licensing, but they aren't all the same.  Company philosophies like how they teach sales and what customer experience they're trying to create sets the tone for the differences between us and other local HVAC companies.  At Surfside, we place tremendous emphasis on providing customers with detailed options and explanations of those options, so our customers can make informed choices on what repair or replacement route works best for them.

More Than Just an HVAC Company
At Surfside, we're more than just a local HVAC company.  With multiple home services, each represented by their own individual experts, Surfside is uniquely suited to handle a wide range of our customers' needs.
Think about it: when, for example, Plumbing re-pipes a home and has to cut into sheetrock, our Home Repair division can repair those holes rather than leaving our customers having to search for additional contractors.  After remodels Home Cleaning can provide the post-construction clean to get rid of all that dust.  When Electrical digs a trench through your yard to run underground wires, Lawn Care can come back and replace the grass.  And if HVAC has to remove the closet door frame to install the new unit, Home Repair can restore it back to new.  The diversity of our company is one of our greatest strengths and a unique convenience to our customers that our competitors simply can't match.
In Need of Service?
Having an air conditioning or furnace issue?  We're a 24/7 local HVAC company with emergency services available when you need them.
A New Kind of Service Company
We are 'The One Call That Books It All', with individual masters of their craft in every division. It's not the same people doing everything: it's highly trained professionals comprising each department, but all under the same trusted brand and service philosophy of excellence.  It's what makes us more than just another local HVAC company.
We're Here When You Need Us
Just about all the local HVAC companies advertise 24/7 service, but they don't all live up to it.  With Surfside, not only do we provide 24/7 service, but whatever time of day or night that you call you reach us, not some call center.
Not every need requires a technician coming out in the middle of the night, but when an emergency does arise at odd hours we're ready to help.  With no after-hours upcharges, why wait when your AC or heat goes out to call?

Free Estimates

- No-hassle estimates!


$25 Service Call

- Call today!

Safety First

- Background checks on everyone!

A Wave of Excellence

- Only the best pros!
Free Estimates

- No-hassle estimates!


$25 Service Calls

- Call today!

Safety First

- Background checks on everyone!

A Wave of Excellence

- Only the best pros!
Always Check the Licensing
It's important to make sure any local HVAC companies you use are fully licensed, insured, and bonded.  This ensures that they have a level of state-tested competency and compliance, as well as the insurance and bond to back up any mistakes they make.  This protects you, and protecting you and your home is important.  To check on a company's licensing, always look for their license number posted somewhere on their website or advertisements (see ours below in the footer), or visit the Alabama HVAC License Online Search Tool.
Disasters definitely can happen during air conditioning work.  Installations can be performed incorrectly that result in damage to your new unit or your home, HVAC technicians can accidentally step through your ceiling, or any number of other accidents or mistakes.  You'll never find a company that doesn't sometimes mess something up, but you can trust a local HVAC company like ours to stand behind our work with workmanship guarantees, proper insurance, bonds, and licenses.
Affordable HVAC Services With Great Financing Options
Making sure you get top-quality service for what you pay is important to us, and so is making sure you can afford that service.  That's why we regularly evaluate our prices to stay fair and competitive both as compared to our competitors and as material prices go up and down.  When materials prices go down, we make sure to pass that savings on to our customers by adjusting our prices accordingly instead of trying to just grab at bigger profits.  Not all the local HVAC companies do this, but we believe it is the right way to do business.
With several financing options available including Wells Fargo, Alabama Power, and Hearth, we work with you to make sure you can afford the repair or replacement you need.
To get financing, simply call our office or start with one of the two application links by clicking the buttons below for Wells Fargo Special Financing or Hearth.
Do you have more questions?
We're your #1 trusted local HVAC company and are here 24/7 to help.  Feel free to give us a call or checkout our Frequently Asked Questions for more information.