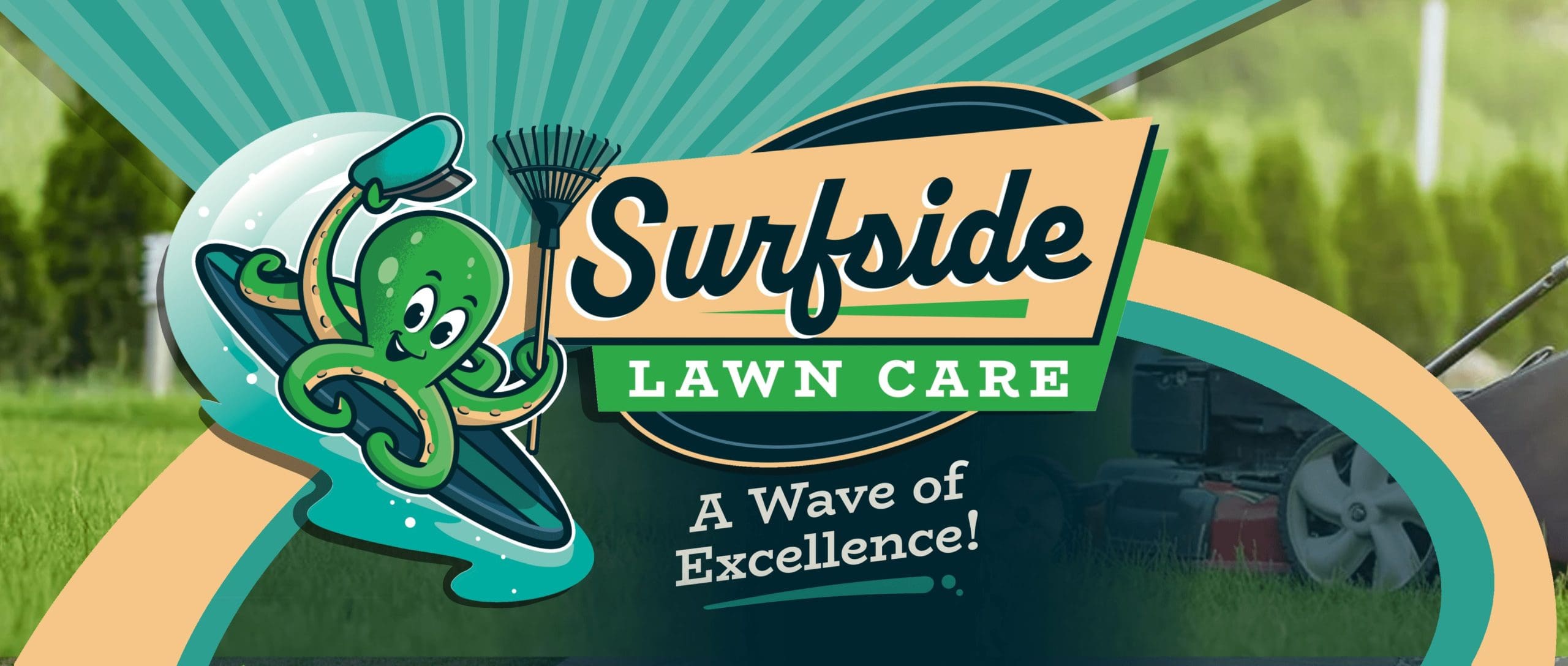 Mobile's #1 Trusted of Local Lawn Companies
Locally owned and operated, we are proud residents of the Gulf Coast.  We live and work in both Mobile and Baldwin Counties just the same.  We've grown up here loving our area, which is reflected heavily in our branding.  Our octopus and its eight arms represent our eight different divisions, and the name and logo of our company is beach oriented as a tribute to Alabama's beautiful beaches.  It just made sense as one of the many local lawn care companies in Mobile, AL for us to pay tribute to our amazing beaches and waterways.  There's no better place in our mind to have centered one of South Alabama's premier local lawn companies.
Not All Local Lawn Companies Are the Same

Local lawn companies in Mobile AL are a dime a dozen.  There are the one-man shows, the large landscaping companies that also offer lawn care, and then the larger and medium sized companies of two to five trucks offering just lawn services.  There is no shortage of lawn care companies in our area.  So, how do you choose the right one for you?

There is no professional, state regulated license regulating lawn care the way the state regulates plumbing, electrical, and HVAC.  This means just anyone, insured or not, can jump in a truck with a mower and offer lawn care services.  It's important, therefore, to make sure the company you choose does in fact have a professional bond and general liability insurance policy.  Because lawn care is dangerous.  Weed eaters sling stones, mowers eject rocks, and you are having people walk on your property using dangerous pieces of equipment.  If something goes wrong, you need the assurance that your lawn care provider is going to fix what they may break.
More Than Just a Local Lawn Care Company
At Surfside, we're more than just another of Mobile's local lawn care companies.  With multiple home services, each represented by their own individual experts, Surfside is uniquely suited to handle a wide range of our customers' needs.
Think about it: when, for example, Plumbing re-pipes a home and has to cut into sheetrock, our Home Repair division can repair those holes rather than leaving our customers having to search for additional contractors.  After remodels Home Cleaning can provide the post-construction clean to get rid of all that dust.  When Electric digs a trench through your yard to run underground wires, Lawn Care can come back and replace the grass.  If HVAC has to remove the closet door frame to install the new unit, Home Repair can restore it back to new.  And when we install a generator, we also have our master gas fitters to run the gas lines.  The diversity of our company is one of our greatest strengths and a unique convenience to our customers that our competitors simply can't match.
In Need of Service?
Need a professional lawn care company?  Look no further than Surfside Lawn Care.  We're an affordable, local lawn care company in Mobile AL ready to handle your ever lawn need.
A New Kind of Service Company
We are 'The One Call That Books It All', with individual masters of their craft in every division. It's not the same people doing everything: it's highly trained professionals comprising each department, but all under the same trusted brand and service philosophy of excellence.  It's what makes us more than just another of Mobile's many local lawn companies.
We're Here When You Need Us
Every lawn care company is 'local', right?  But do all of them carry the right insurance and bonds?  Do they all stand behind their work?  And are any of them more than 'just another lawn company'?
With Surfside, we are one of many local lawn care companies in Mobile AL, but we are unique in a way that matters: we are more than just a lawn care company.  With professional insurance, bonding, and other services, Surfside is the one call that books it all to handle your every need.

Not All Jobs Are Just Lawn Care
Beyond being one of the top lawn care companies in Mobile AL, we are your #1 landscapers and power washers locally as well.  And sometimes those jobs are more than just a few bucks.  When your wallet needs a little help, we have you covered.  With financing options from 0% for twelve months to 9% for ten years, we have a number of financing options to look at to get the job done.
With several financing options available including Wells Fargo, Alabama Power, and Hearth, we work with you to make sure you can afford the repair or replacement you need.
To get financing, simply call our office or start with one of the two application links by clicking the buttons below for Wells Fargo Special Financing or Hearth.
Meriam Neise
September 2, 2023.
Madison and Sam performed their service professionally. We will refer Surfside Services without hesitation.
People are very professional putting out a great generator answered all my questions made good suggestions that I will follow just all around great people to do business with and their prices are lower than generac used Kohler All My Life as a plumber and all the plumbing products in my book rated top notch
Stephany Crumpton
August 29, 2023.
Jake was very kind and very knowledgeable to all my questions I had.
They did an outstanding job installing my new generator I Campbell
Gamers N Geeks
August 24, 2023.
Great service every time we use them! Highly recommend.
Nick Melton
August 13, 2023.
Had two recent visits from them and both were incredibly helpful and honest people. My go-to hvac place.
Do you have more questions?
We're your #1 trusted of local lawn care companies in Mobile AL.  Feel free to give us a call or checkout our Frequently Asked Questions for more information.