Home Cleaning In Mobile AL
Are you looking for a reliable home cleaning service in Mobile, Alabama?  Look no further!  We know that a clean home is a happy home, and that's why we're here to help.  Our team of professionals provide top quality cleaning services that will help you keep your home looking its best.  From vacuuming and dusting to deep cleaning and organizing, we offer a wide range of cleaning services that are tailored to meet your needs. Surfside is committed to using eco-friendly cleaning products and methods that are safe for your family, pets, and the environment.  Whether you need weekly, bi-weekly, or monthly cleaning services, we're here to help. Our flexible scheduling options and affordable prices make it easy to keep your home clean and tidy on a regular basis.  So, if you're in Mobile, AL and looking for a reliable home cleaning service, give us a call today!  We're here to help and can't wait to make your home sparkle!
What Are The Advantages Of Hiring A Local Home Cleaning Company Over A National Chain?
Personalized Service: Local home cleaning companies typically offer a more personalized service than large national chains. They are more likely to work with their customers and tailor their services to meet their unique needs. They also tend to be more flexible and responsive to their customers.
Supporting the Local Economy: Choosing a local home cleaning company supports your local economy and helps to create jobs in your community.
More Competitive Pricing: In many cases, local home cleaning companies offer more competitive pricing than larger chains. This is because they have fewer overhead costs, such as advertising, and can pass those savings on to their customers.
Greater Accountability: Local home cleaning companies rely heavily on their reputation and word-of-mouth advertising to grow their business. This means they are typically more accountable for the quality of their work and more invested in maintaining high levels of customer satisfaction.
Access to the Owner/Operator: When you work with a local home cleaning company, you are often dealing directly with the owner/operator. This means you have a direct line of communication and can get your questions and concerns addressed quickly and efficiently.
 We Understand Home Cleaning In Mobile, AL
Keeping your home clean is imperative if you want to maintain a comfortable and healthy living environment, but finding the time to handle all of the cleaning tasks can be challenging. That's where our team of professionals come in! We provide home cleaning in Mobile, AL and we're here to help keep your home looking and feeling its best. Our team uses only the best tools and cleaning solutions to tackle everything from dust and dirt to stubborn stains, ensuring that your home is always in tip-top shape.  You can find many of our customers who have graciously taken the time to share their experiences on Google, Facebook, and other great sites.  Fully licensed, bonded, and insured, we're also members of our local Chamber of Commerce and Better Business Bureau.  With 4.9 and 5 star ratings everywhere you look, you know we're a company you can trust to do the job right and stand behind our work.  So sit back, relax, and let us handle the cleaning! Give us a call today to schedule your appointment for home cleaning in Mobile, AL.
Not All Home Cleaning Services Are the Same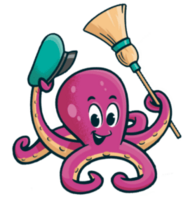 Home cleaning companies are not licensed or regulated by the state in any way.  Our other services, like Plumbing, HVAC, and Electrical, have professional licenses and the state requires us to carry insurance for those trades.
Cleaning, however, requires no insurance, no professional bond, no training or background checks or anything.  This is why it is so important to use a company that chooses to do those things, like us.  We background check every cleaner, and we carry the same insurance on Home Cleaning as our other services.  Because this is what our customers deserve: a local home cleaning company whose work they can trust is backed by proper insurance and due diligence.
We Offer More Than Just a Home Cleaning In Mobile, AL
At Surfside, we're more than just a local home cleaning company.  With multiple home services, each represented by their own individual experts, Surfside is uniquely suited to handle a wide range of our customers' needs.
Think about it: Plumbing re-pipes a home and has to cut into sheetrock, our Home Repair division can repair those holes rather than leaving our customers having to search for additional contractors.   After remodels Home Cleaning can provide the post-construction clean to get rid of all that dust.  When Electric digs a trench through your yard to run underground wires, Lawn Care can come back and replace the grass.  If HVAC has to remove the closet door frame to install the new unit, Home Repair can restore it back to new.  And when we install a generator, we also have our master gas fitters to run the gas lines.  The diversity of our company is one of our greatest strengths and a unique convenience to our customers that our competitors simply can't match.

Regular Cleaning Includes
Sweeping and vacuuming the floors
Wiping down tables and cabinets
Mopping floors
Dusting surfaces and decor
Kitchen counters, stove top, dishwasher/stove/microwave doors, kitchen sink
Scrubbing toilets, sinks, and bathtubs
Wiping window sills and mirrors
Click here to see what is included in our standard Regular Home Cleaning!
Deep Cleaning Includes
As deep of a home cleaning as you want!
Deep cleans can go as deep as you want, which is why all pricing and cleanings are custom quoted based on your wants and the needs of the home.
Click here to see what all is included in a standard Deep Clean!
What All is Included in My Regular or Deep Clean?
Curious what exactly we do in a regular and a deep home cleaning?  Click here to view our detailed checklist!
Your #1 Local Company for Home Cleaning In Mobile AL
Saves You Time

- Take back more of your day!

Instant Quotes by Phone

- Call today!

Safety First

- Background checks on everyone!

A Wave of Excellence

- Only the best pros!
Meriam Neise
September 2, 2023.
Madison and Sam performed their service professionally. We will refer Surfside Services without hesitation.
People are very professional putting out a great generator answered all my questions made good suggestions that I will follow just all around great people to do business with and their prices are lower than generac used Kohler All My Life as a plumber and all the plumbing products in my book rated top notch
Stephany Crumpton
August 29, 2023.
Jake was very kind and very knowledgeable to all my questions I had.
They did an outstanding job installing my new generator I Campbell
Gamers N Geeks
August 24, 2023.
Great service every time we use them! Highly recommend.
Nick Melton
August 13, 2023.
Had two recent visits from them and both were incredibly helpful and honest people. My go-to hvac place.