Pressure Washing Orange Beach AL - Professional Power House Washing Services
Before you know it, the outside of your house will look as good or better than before! Our professional pressure washing service can make all those pesky areas disappear. With commercial-grade equipment and trained technicians like ours on staff to handle any job, big or small—we're sure that no detail will go unnoticed when you work with us. 

We provide top-quality pressure washing services to make your property look its best. We start by removing all types of mold, mildew, and dirt from the exterior living spaces and other troublesome outdoor areas like patios or sidewalks so they can be given a nice clean for an appealing look.
We also specialize in pressure-washing all hard surfaces—driveways, sidewalks, patios, decks, whole homes, and more. Our firm can use soft water wash for delicate surfaces, reducing damage without compromising performance so they'll last longer than normal.
Choose High-Quality Power Washing Work Near You
If you're someone searching for the best pressure washing services near you, consider our highly qualified team. We understand that the exterior of your home is an important investment, which is why we pay attention to our work and pay attention to every detail. Our goal is to enhance the curb appeal of your property and increase its value.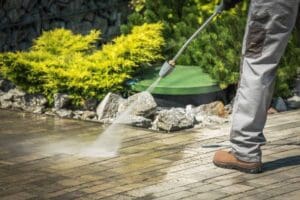 As your local power washing company, we know how important it is to provide a service that leaves you with no hassle and maximum convenience. Our trained technicians will take care of any furniture or belongings in their path so all the work can be done quickly while still being thorough enough for what needs doing.
Our team of power washers is fully insured and bonded for your protection and ours. We're also happy to offer a warranty on our work to give you even more peace of mind. We provide free estimates to potential customers to assure them that we're the right company for the job. 
Power washing is incredibly effective in removing dirt and grime from your home's exterior, but the power used can be harsh on plants. We use cutting-edge technology that harmlessly removes even tough stains without using any harmful chemicals or deductive methods, so you don't have to worry about hurting yourself or those around you.
Need House Washing? Call Surfside Services Today!
If you're looking for the best pressure washing services near you, look no further than our team. The exterior of a house can become worn and dirty quickly. If you want to keep up with maintaining cleanliness for both aesthetic and longevity reasons, then don't hesitate any longer! 
Not only will our service make a difference in how it looks, but it will also increase its value. Our crew will ensure everything looks spic-and-span while helping extend wear life on these critical surfaces inside out. 
Get a free estimate! We look forward to working with you soon!